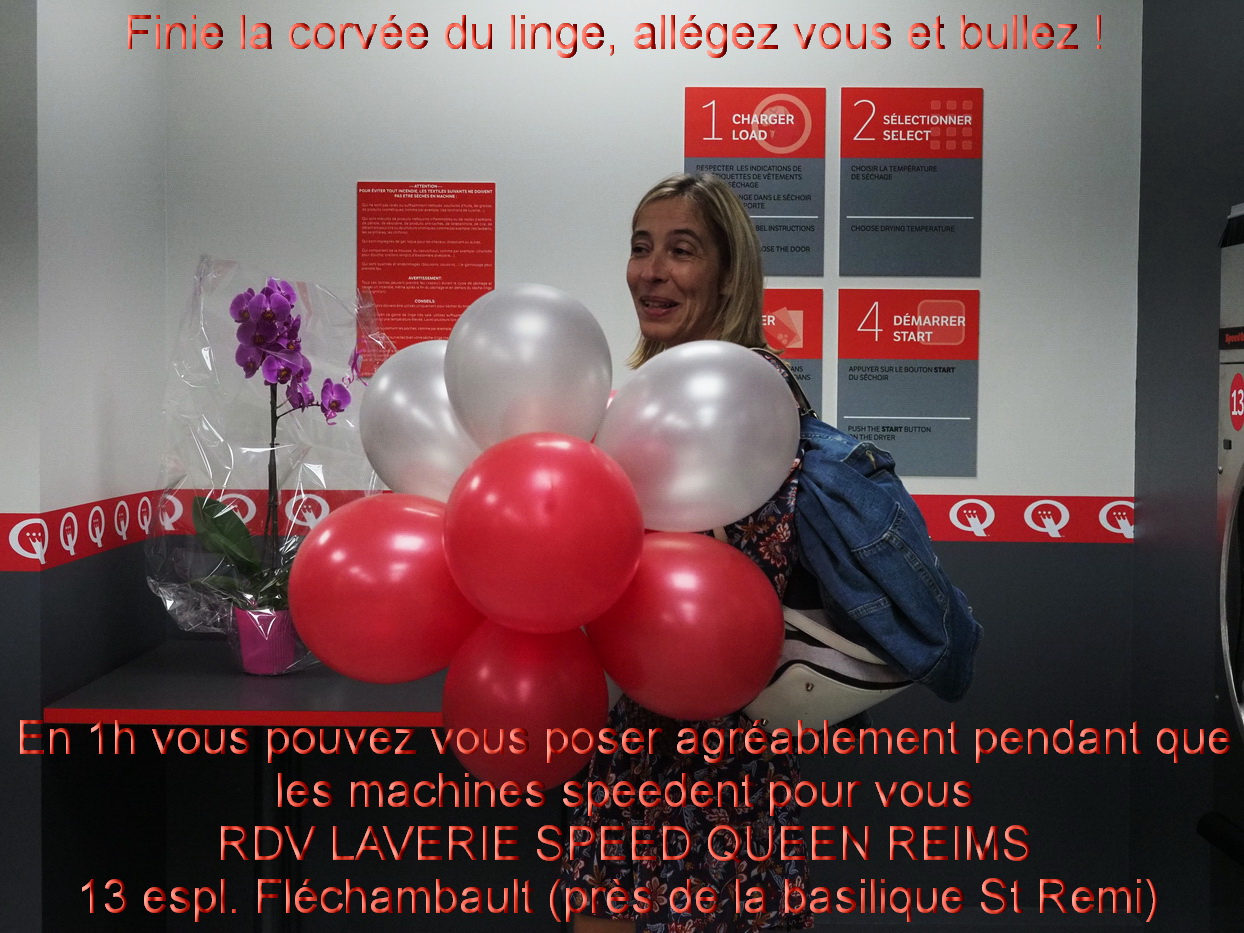 Situez la grande laverie propre et moderne de Reims :

Horaires : 7j/7 à partir de 7h30, fermeture des portes automatiques à 20h30, mais vous pouvez rester ensuite à l'intérieur, le temps de laver et sécher, en prenant si nécessaire plusieurs machines. La lumière s'éteint à 21h50. Prévoir 1h environ pour un cycle lavage + séchage
Laverie accessible handicapés entrée 13 esplanade Fléchambault, 51100 Reims
Autre entrée côté parking public et arrêt de bus Saint-Remi : 6 b rue Chanteraine, 51100 Reims
Laverie de 120m2 avec 8 machines à laver (de 9kgs à 18kgs) et 5 grands séchoirs, dont des machines réglées spécialement pour le textile des animaux et les textiles industriels, petits tapis, installées à côté des lave-linge de la famille. Merci de ne pas trop charger les machines, ni les séchoirs risque d'inondation ou de feu (lisez les informations détaillées dans le cahier information ou sur l'affichage dans la laverie si vous ne savez pas)
Les paiements acceptés sont en espèces, par CB sans contact, par carte de fidélité. Rendu monnaie pour les paiements en espèces, billets accepté de 5, 10 et 20€. Tous les paiements de machines et de produits lessiviels se font à la centrale de paiement tactile au milieu de la laverie
Vous souhaitez poser des questions, ou vous renseigner sur les services

LAVERIE SPEED QUEEN
13 esplanade Fléchambault & 6 b rue Chanteraine, 51100 Reims
Tél : 03 26 83 09 32
Site : https://laverie-reims.com
FB : https://www.facebook.com/laverieSpeedQueenReims/
Opening hours : 7 days/7 opening at 7:30, doors automatically closed at 8:30PM but you can stay inside the time you need to wash and dry. Take many washers and dryers at the same time if necessary. The light stop at 9:50PM. Count 1h to wash + dry.
ADULIE S.A.S. SIREN : 839 065 471 immatriculée 25/4/2018 RCS de Reims